4:00 pm Confessions
5:00 pm Mass
This year, we will be assisting 21 local families to make sure they have what they need to celebrate Christmas. To make this happen, we will be collecting food items for the next three weekends. These boxes will be distributed through St Francis (Dec 19) and First Christian Church's Community Dinner program. Before Mass, place your food donations in the basket in front of the altar.

-November 28 and 29: Cans of green beans, corn, & peas. Bags of beans & rice. Bags of candy.

-December 5 and December 6: Boxes of spaghetti. Tomato or pasta sauce. Cans of soup. Cans of fruit. Bags of potatoes.

-December 12 and 13: Peanut butter and jelly. Boxes of macaroni & cheese. Cans of tuna or chicken. Non-refrigerated canned hams. Bread or rolls.


november
The month when We pray for the dead
Have you noticed that we have book in the main aisle of the church? This book has a lot of names written in it! Who are these people and why are their names in our book? They are the deceased friends and family members of St. Francis parishioners. In the month of November, the Catholic Church makes a special effort to pray for the souls of the faithful departed. This practice comes from the Catholic belief in Purgatory- that the souls of those who die must be purified before they enter the presence of God. Check out the video below to learn more!

If you would like to remember your own deceased friends and family, here's a traditional good prayer from 4 Erza:
"Eternal rest grant unto them O Lord, and let perpetual light shine upon them. May they rest in peace. Amen"
Not comfortable going to church in person during the pandemic? Join us for live stream Mass via
Facebook
.
bible study
october 7-DECEMBER 23
This October we will begin a Bible Study on the Prophets: Messengers of God's Mercy. We will meet on Wednesday evenings at 7 pm in one of the classrooms at the school. For those who wish to attend virtually, please send an email to the office at stfrancischurch@cdlex.org and we will send you a Zoom invite code. To get the most out of the study, participants should purchase the workbook. To register for the course, click on the link below!
https://study.ascensionpress.com/studies/52033/registrations/new
We have begun our RCIA classes for those who want to become Catholic! Please check out our RCIA page under "Church Life"
St. Francis Church is open for public worship at our campus! As a church in the Diocese of Lexington, we follow the directives issued by Bishop John Stowe O.F.M. Conv. As of Sunday June 14, we are able to have Mass at 50% of the building capacity. Most of the regulations affect the priest, but the biggest thing for the people is to wear a face covering and to maintain 6ft between households. 
"In the Name of the Father and of the Son and of the Holy Spirit"
Our first priority as a church is worshipping God the almighty Father through His Son Jesus Christ in the Holy Spirit. As Catholics, we do this by prayer, reading the Bible, and offering the sacraments. We would love to have you worship with us!
Worship
Serve
"Whatever you did for the least of my brothers, you did it for me"  (Mt 25: 40) 
Serving others is at the heart of the Gospel. In response to the call of Jesus, St. Francis Church has several service ministries. We collect food for Blessing Boxes, put on a Christmas Store, and support the work of United Helping Hands. We would love for you to get involved!
"Go and make disciples of all nations" (Mt 28:19)
St. Francis of Assisi Catholic Church is here to preach and minister to everyone in Pike County, Kentucky and the greater Central Appalachian region. Christ meets everyone where they are, and so everyone is welcome! Christ always changes those who meet Him, and so everyone is called to grow!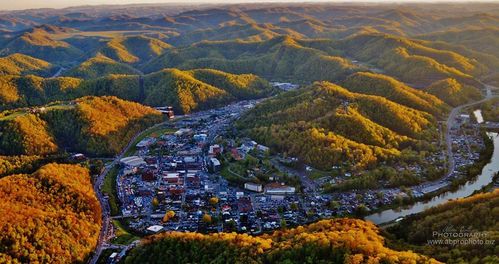 REach
A few of the latest things happening at Saint Francis in Pikeville.
Mass During Covid